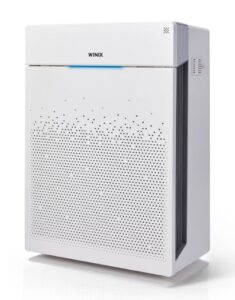 Birds are pleasant to have but they are without a doubt messy. The dust and dander they shed naturally is a major trigger for allergic reactions. They easily spread odor as well. So, using the best air purifier for bird owners will make life better for you and your feathery friends.
As bird owners, we recommend air purifiers that feature HEPA filtration and activated carbon. Why? Bird dander and odor go hand in hand and if they build-up, they could easily result in terrible health issues. HEPA filtration is popularly known for getting rid of up to 99.97% of all allergens.
In this review, we explore some of the best air purifiers for birds. We check out what features make them stand out, as well as their pros and cons. Under the verdict, we'll declare our top choice and discuss the reasons.
Best Air Purifier for Bird Owners – Comparison Table
Today, we have picked six of the best products for you to make an easy selection. But before we review each one independently, here is a summary of their main features:
Reviews of the Best Air Purifiers for Bird Owners 2023
There are numerous top-performing air purifiers on the market today. The challenge is, with all the sales and marketing hype going on, you can easily take home a unit that will not meet your expectations. Therefore, you need to take time and research a bit and that's why we are here.
We usually research extensively before sharing our honest opinion. After careful consideration, these are the best air purifiers for birds in 2023:
1. Winix HR900 Ultimate Pet Air Purifier – best air purifier for bird owners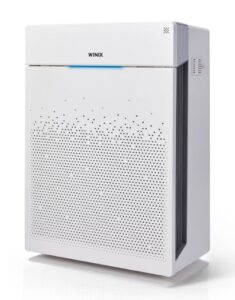 Winix HR900 Ultimate prides itself in a 360-degree air intake through the perforated grill on the sides and at the front. Then, the air goes through several filters and is then released through the top. This design and filtration process is what makes it the best air purifier for bird owners.
Winix HR900 Ultimate also applies PlasmaWave technology to fight odors, chemical vapors, and allergens. It uses a True HEPA filter, a pre-filter, and activated carbon resulting in over 99.9% filtration success. The pre-filter serves as the first defense line. It filters the larger particles hence prolonging the life of the HEPA filter.
This unit could be considered relatively heavy for Its room area coverage of 300 sq. ft. However, it does a really good job of eliminating odors and allergens. Besides, you rarely move an air purifier once you find the perfect placement spot. It's also AHAM Verified and Energy Star rated.
Features
360 degrees air intake
The maximum room coverage: 300 sq. ft.
Air quality smart sensors
Automatic sleep mode
PlasmaWave air cleaning technology
Child lock
Minimum noise level: 27 dB
5 fan speed settings
Filter replacement indicator
LED air quality indicator (three colors)
True HEPA filter
5-level filtration system with the in-depth air purification process
CADR: 264 (dust), 301 (pollen), 258 (smoke)
Weight: 18.7 pounds
Dimensions (WxDxH): 16.3 x 9.6 x 23.6 inches
Pros
Ultra-quiet especially on medium and low setting
Great for pollutants emitted by birds
Effectively fights odors, chemical vapors, and other pollutants
It is not expensive
Very easy to maintain
Attractive design
AHAM Verified and Energy Star rated for safety and low energy consumption
Has smart sensors – senses air quality and adjusts the fan speed to enhance room air quality
Two-year warranty
Cons
Considering the intended room coverage, it is a bit bulky
Click here to see its current price.
2. Rabbit Air BioGS 2.0 Ultra Quiet Air Purifier (SPA-625A)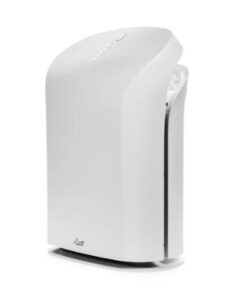 The Rabbit BioGS 2.0 SPA-625A serves small and large rooms not exceeding 625 square feet. It delivers two air changes per hour on a high setting and has a 4-stage filtration system. This filtration features a pre-filter, activated carbon filters (charcoal-based), and HEPA filter.
There's one attribute that sets it above the best air purifiers for bird owners – easy maintenance. The carbon filters will serve you for up to three years while the pre-filter is washable. The unit is also Energy Star rated for low energy consumption.
Of the air purifiers featured in this review, Rabbit BioGS 2.0 SPA-625A is the quietest, it averages 22 decibels on low setting and 50 decibels on its high setting.
Also, the manufacturer offers you a long five-year warranty so you can be sure that the unit will serve you way longer. Besides durability, it has a simple and sleek appearance that has won several awards for the design.
Features
Weight: 16.8 pounds
Dimensions (HxWxD): 22.2 x 16.6 x 9.8 inches
Maximum room coverage is 625 sq. ft.
Noise range: 22.8 decibels – 50.4 decibels
Airflow: 42 to 167 CFM
Filter life indicator
Filters: HEPA, activated carbon charcoal, washable pre-filter
4-stage of purification and odor removal
2 air changes per hour on its high setting
Power consumption: 5 – 39 Watts
Voltage: 120V 60 Hz
CADR: 180 (pollen), 165 (dust), 154 (smoke)
Automatic air quality sensor
Pros
Eliminates odor and allergens efficiently
It's fairly quiet
It is very easy to maintain
Filter change alert reminds you when to change filters
Comes with a remote control so you can adjust it at the comfort of your seat
Economical – Energy Star rated with filters that last up to 3 years
Cons
It's a bit more expensive than the Winix HR900
Click here to see its current price.
3. Oransi Max HEPA Large Room Air Purifier (OVHM80)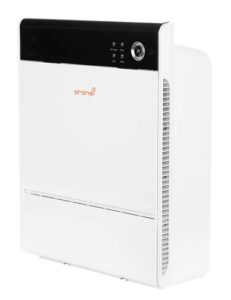 If you are looking for a unit ideal for medium-sized rooms, Oransi Max OVHM80 could be it. It features a three-stage filtration system that comprises of HEPA filter, pre-filter, and an activated carbon filter. These help to eliminate allergens and bird odor simultaneously.
Oransi Max OVHM80 serves small to medium rooms up to 600 sq. ft. In terms of durability, this is the best air purifier for bird owners from Oransi. No wonder the company offers a 10-year warranty on it to prove that. Besides, the warranty is as comprehensive as it can get.
Also, it is a relatively quiet unit fit for any room, it's easy to operate, and the filters last for an average of 12 months. These filters have been tested and rated among the best on the market. Besides, the unit is AHAM Verified and Energy Star certified.
Oransi also equips this unit with an intelligent air quality sensor. Also, the fan speed auto-adjusts to match the air quality in the room.
Features
Weight: 18.5 pounds
Dimensions (WxHxD): 17 x 22 x 8 inches
3-stage filtration with HEPA filter, pre-filter, and odor-eliminating carbon filter
Four fan speed settings (plus Auto mode)
Smart air quality sensor
Maximum coverage: 600 sq. ft.
3-air changes per hour
CADR: 217
Voltage: 115V, 60Hz
Noise range: 34 to 53 dB
V-Seal to prevent air leakage
Power consumption: 51 to 90 Watts depending on the setting
Airflow: 65 to 220 depending on the setting
Pros
CARB certified
It's built to last
Has a filter replacement indicator
Compact yet attractive design
It is very efficient considering that there is no air leakage
Ideal for bird owners with medium-sized rooms
Efficient filtration and elimination of odor and allergens
Auto-adjusts to optimize air quality
It's relatively quiet especially on the lowest fan speed
Comes with a long 10-year warranty
Cons
It's noisier than the Winix HR900 and Rabbit Air BioGS 2.0
Click here to see its current price.
4. Alen BreatheSmart FIT50 Air Purifier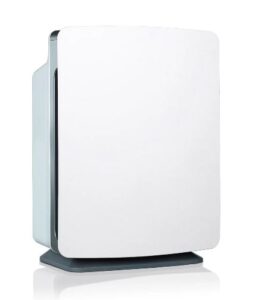 Alen BreatheSmart FIT50 also qualifies as one of the best air purifiers for bird dander because of its highly sensitive air quality sensor and magnificent filtration. Whenever the unit senses different air quality, the power button indicates the change by displaying a different color.
Besides, it is relatively quiet, especially in the lowest setting.
The unit runs twice every hour and serves rooms of up to 900 sq. ft. Although it's a relatively large device, it's supported by advanced WhisperMax making its operation soothingly quiet.
Another feature that we love about this unit is its ability to leave your indoor air clean and fresh. It uses a True HEPA filter to eliminate odors and also capture allergens such as bird dander, pollen, and dust, among others.
Features
Weight: 16 pounds
Dimensions (HxWxD): 22.25 x 16.75 x 10 inches
Filtration: H13 True HEPA
4 automatic speed settings
Runs twice every hour
Maximum coverage: 900 sq. ft.
Automatic air quality sensor with LED rings display
Sleek design – the unit's panel has multiple colors to choose from
Noise range: 32 to 49 dBA
CADR: 220
Airflow: 110 to 231 CFM
Voltage: 120 volts, 60 Hz
Power consumption: 1.2W to 60W
Cord length: 7 feet
Filter life – 12 months
Pros
Serves medium to large rooms
It's relatively quiet
Attractive LED display of the air quality
Economical – filter lasts a whole year
You have 4-speed settings to choose from
Efficient filtration: eliminates over 99.97 % of all allergens
Lifetime warranty upon product registration
Cons
It's a bit pricey
Not Energy Star rated
Click here to see its current price.
5. Germ Guardian AC5250PT HEPA Filter Air Purifier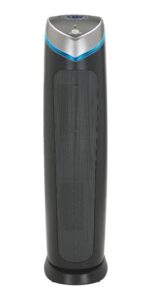 The best air purifiers for bird owners must also serve multiple purposes. They should be able to capture allergens, kill germs and viruses, and also eliminate odors. Besides being an excellent air purifier for bird messes, Germ Guardian AC5250PT uses several technologies to handle such tasks.
However, because it only covers up to 180 square feet, it is not ideal for medium or large rooms. So, it is perfect for bird owners who live in small apartments or houses.
GermGuardian AC5250PT, which is one of the best GermGuardian air purifiers, is equipped with a HEPA filter and a charcoal filter. An antimicrobial agent called PetPure is added to the filter to prevent the growth of organisms such as bacteria and mold.
The air purifier is also equipped with UV-C light technology that complements the filters in killing germs and bacteria. Therefore, despite its diminutive appearance, it is a real fighter against allergens and odors that every bird owner should consider.
Features
Weight: 11.25 pounds
Dimensions: 11 x 6.75 x 27.25 (inches)
5-speed setting
Voltage: 120V
6-foot power cord
Up to 8 hours programmable timer
Maximum room coverage: 180 sq. ft.
Runs up to 4 times an hour
Filter replacement reminder
Filters: True HEPA, charcoal
UV-C light technology
CADR: 123 (dust), 128 (pollen), 116 (smoke)
Pros
Efficient filtration using a HEPA filter, charcoal filter, and UV-C light
Kills germs and viruses using UV-C light
Gets rid of odors produced by bird products
It is not expensive
Has a programmable timer of up to 8 hours
It's Energy Star certified and AHAM verified
Cons
Its maximum room coverage is quite small
Click here to see its current price.
6. Hamilton Beach 04384 TrueAir Air Purifier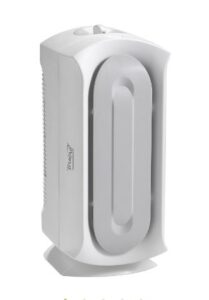 If you have small rooms, this is a good alternative to the Germ Guardian AC5250PT. Besides, it is way cheaper.
Whenever an air purifier features a permanent HEPA-grade filter, it automatically ranks higher in any list. It's simple, it is easier to maintain, and the filtration is more efficient. Besides, you have a wide range of easily accessible replaceable filters to choose from.
Other than the HEPA-grade filter, Hamilton Beach TrueAir has two more filters. There's a pre-filter for capturing large particles and pet hair. And, there are two odor-eliminating carbon zeolite filters made with carbon and are replaceable. This combination affords you over 99.9% allergen capture efficiency.
You will enjoy this ultra-quiet air purifier that serves small rooms not exceeding 140 sq. ft. It has 3-speed settings and it's a quick clean option for instant powerful cleaning, a medium setting, and the ultra-quiet option that acts as the night setting.
Hamilton Beach 04384 is a versatile unit that fits almost anywhere courtesy of its sleek design. It also blends easily with furniture and can be placed vertically or horizontally.
Features
Weight: 6.3 pounds
Dimensions (inches): 10.84 x 8.08 x 16.43
3-stage filtration: pre-filter, HEPA-grade filter, 2 carbon zeolite filters
It has 3-speed settings
Can be placed vertically or horizontally
Room coverage: 140 sq. ft.
Pros
It's quite affordable
Compact yet eye-catching design
Efficient filtration with odor elimination capability
Has a wide range of replaceable filters
Easy to maintain
Ultra-quiet thus perfect for nights
Easy to maintenance because the HEPA-grade filter is permanent
Its light and easily portable – moving it from one room to another is a breeze
Cons
The unit's maximum coverage area is quite limited
Click here to see its current price.
Verdict
A lighter air purifier is preferred by most bird owners because you can move it from one room to another easily. Also, you can place it as close to the pet(s) as possible.
However, we have loved Winix HR900 Ultimate's overall efficiency at purification coupled with its modest pricing. The pre-filter captures the larger particles such as hair, birds' dander, and dust particles, an additional prefilter picks dander and other particles that could have slipped past the first filter.
Further, the activated carbon filter traps pet odors, smoke, and chemicals. The True HEPA filter then takes over and captures close to 100% of all allergens including dust, pollen, dander, and mold spores. PlasmaWave then takes over and picks up chemical fumes and other remaining allergens.
Also, we love the unit's smart sensor for its ability to monitor air quality and display the same through the color-coded lighting. It also adjusts the fan speed to optimize air purification. So, if you are looking for the best air purifier for birds, Winix HR900 Ultimate is an excellent option.
You can consider the others too based on pricing as well as the room size. If you live in a small apartment, for example, it wouldn't make sense to buy the Alen BreatheSmart FIT50. Another thing that could determine your choice is the color and design of a particular unit and how it can integrate with your décor.
In summary, these are the best air purifiers for bird owners in 2023:
Winix HR900 Ultimate Pet Air Purifier
Rabbit Air BioGS 2.0 Ultra Quiet Air Purifier (SPA-625A)
Oransi Max HEPA Large Room Air Purifier (OVHM80)
Alen BreatheSmart FIT50 Air Purifier
Germ Guardian AC5250PT True HEPA Filter Air Purifier
Hamilton Beach 04384 TrueAir Air Purifier