Although air purifiers play a totally different role from humidifiers, manufacturers have found a way to merge their separate functions into one appliance. You can now cleanse and put moisture into the air simultaneously using an air purifier humidifier combo.
The best 2-in-1 air purifier and humidifier combo efficiently filters smoke, dust, pollen, bacteria and other allergens from the air and at the same time, it tests and maintains the humidity level.
We took time and analyzed top-rated models that are effective and consumer-friendly. We discuss them in this review sighting their main features, pros, and cons.
Comparison Table – Best Air Purifier Humidifier Combo
With more details to follow on each 2 in 1 air purifier and humidifier, here is a summary of what to expect:
Reviews of the Best Air Purifier Humidifier Combos 2023
After filtering through many options, we have found the best options for you. These are the best 2 in 1 air purifier and humidifier combos in 2023:
1. SHARP KC850U PlasmaCluster Air Purifier Humidifier for Home or Office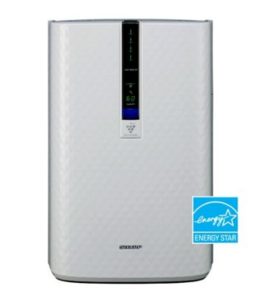 Sharp boasts over 80,000 products since 2001, you can experience their prowess on the technological advancements in their products. For instance, they apply their patented Plasma cluster ion technology on Sharp KC850U to eliminate micro-pollutants that other filters cannot capture.
This process imitates a natural cleaning process by producing negative and positive ions from the vapor.
SHARP KC850U is one of the best air purifier humidifier combos and the most peaceful for its size. Operating quietly at 26 decibels, it produces a soothing white noise for an undisturbed night. Here are some of its unique features.
Features
Weight: 20.5 pounds
Dimensions: 14.9 x 10.5 x 23.1 inches
3-level Filtration: Pre-filter, True HEPA, and Activated carbon
Smart sensor: detects and indicates the air quality
Uses Plasma Ion Technology
Runs quietly at 26 decibels
Pros
It offers a 99.97% filtration efficiency using True HEPA filter
Effectively eliminates odors using an activated carbon filter
Senses air quality and automatically adjusts the fan to maintain good air quality
Easy to maintain – True HEPA filter can last over 2 years depending on the environment
It has sleep mode function – its light has on/dim/off options and the fan can be set to run on low setting
Works efficiently on the floor or a desk
Cons
Quite heavy to move around
Not compact – it needs larger space
Click here to see its current price.
2. Venta LW25 Airwasher 2-in-1 Humidifier and Air Purifier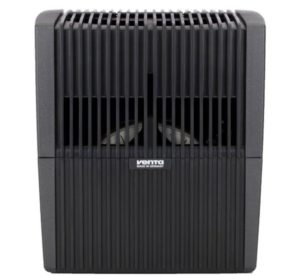 Venta LW25 Airwasher 2-in-1 best suits rooms measuring 400 sq. ft. and below. Its ozone free and filter-less thus making it the best 2-in-1 air purifier and humidifier combo in regards to energy efficiency.
Also, it has a 2-gallon water tank and indicates the water level. The device also automatically shuts off after operation.
In summary, the Venta LW25 Airwasher is a safe and efficient 2-in-1 air purifier considering it does not emit white dust, ozone, or ions as it applies cold evaporation technology.
Features
Weight: 8.5 pounds
Dimensions: 11.8 x 13 x 11.8 inches
Water tank capacity: 2 gallons
Filters: none
Coverage: up to 400 sq. ft.
Pros
Light
Safe- does not emit ions, white dust or ozone
It serves a relatively large room – up to 400 sq. ft.
Energy efficient
Reduces airborne allergens down to 0.3 microns using Venta Airwasher
Economical- no filter replacement expenses
Hygienic and easy to clean- no filters to rinse
Durable – you get consistent performance using top-notch German engineering
Cons
Click here to see its current price.
3. BONECO 2-in-1 Air Washer W200 Humidifier & Purifier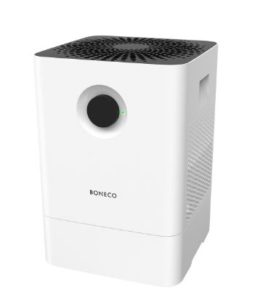 The BONECO 2-in-1 W200 uses an innovative evaporator mat for air filtration. Apart from serving larger rooms, it's also efficient at capturing pollen, dust, mold, and other allergens.
Also, it has a great design that blends comfortably with your home's decor.
Serving rooms of up to 540 sq. ft. BONECO W200 can work in commercial spaces as well. Its evaporator mat is washable and can last up to 3 years depending on the environment.
Further, the air washer is incredibly simple to clean since its components are machine and dishwasher safe.
Features
Weight: 11.2 pounds
Dimensions: 11 x 11 x 16 inches
Water tank capacity: 2.22 gallons per day
Coverage: up to 540 sq. ft.
Dishwasher and machine washer safe components
Pros
High-efficiency humidification
It serves larger rooms than its peers- up to 540 sq. ft.
Relatively quiet
Easy to clean and maintain- filter lasts up to 3 years
Cons
It's relatively expensive
Requires the water to be refilled often
Click here to see its current price.
4. Oreck WK15500B Air Refresh 2-in-1 HEPA Air Purifier & Ultrasonic Humidifier for Small Rooms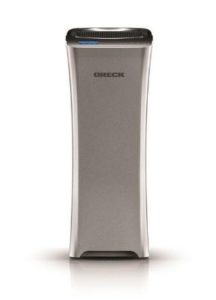 The Oreck WK15500B is a smart 2-in-1 air purifier and humidifier with an in-built humidistat. The feature enables it to sense the level of humidity in a room and automatically adjust to maintain the desired humidity level.
Besides, the ultrasonic humidifier increases the room's moisture without using hot steam. It also has a water tank indicator to alert you of the water levels. In case the water runs low, the indicator shuts down the humidifier and leaves the air purifier running.
The Oreck WK15500B is designed for small rooms not exceeding 115 sq. ft. the device's air purifier combines True HEPA filtration with a charcoal filter to remove over 99.9% allergens and eliminate odor.
You can easily activate night mode by dimming the lights and changing settings to low speed at a button press.
Features
Weight: 15 pounds
Dimensions: 10 x 10.5 x 29 inches
Filter: charcoal filter and True HEPA filter
Digital indicator of each filter's lifespan and reminds you to change when due
Adjustable – allows you to regulate humidity using easy to use controls
Humidistat – senses the humidity level and adjusts automatically on/off to ensure humidity levels are good.
Water tank indicator – alerts when the water level is too low and shuts the humidifier
Sleep mode – allows you to dim light and reduce speed for an uninterrupted sleep
Pros
It has easy controls that allow adjusting to the desired humidity
Achieves over 99% filtration efficiency using the HEPA filter
The charcoal filter is efficient at eliminating odors
Operates quietly
Smart operation – alerts when the water level is too low and shuts the humidifier
Alerts when it's time to change separate filters
Cons
It serves small rooms up to 115 sq. ft.
The humidifier does not use hot steam
Click here to see its current price.
5. Envion by BONECO Four Seasons FS200 4-in-1 Air Purifier, Heater, Fan & Humidifier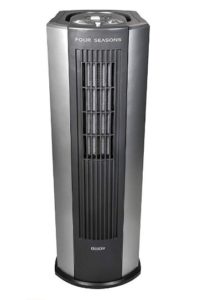 The Envion FS200 offers the convenience and affordability of owning a 4-in-1 appliance. You have a heater, a humidifier, an air purifier, and a fan, all in one.
Although these functions work simultaneously, the fan can work independent of the humidifier and heater during warm seasons for your comfort.
Additionally, the Envion FS200 is an all-weather appliance. It has a 3 liters water capacity. Once the water is over and the reservoir is empty, the heater remains off while the fan keeps running thus maintaining cool air in your environment.
This powerful 4-in-1 appliance uses True HEPA filter to eliminate smoke, odor, bacteria, viruses, and other allergens from your home.
Features
Weight: 10.1 pounds
Dimensions: 9 x 25 x 9 inches
Filtration: Uses True HEPA filter
Serves medium and large rooms
The 4 functions – fan, air purifier, heater, and humidifier operate independently but can work simultaneously
Cleans air up to 3 times every hour
Pros
Increased convenience – the 4 functions run simultaneously
Saves space
Removes allergens – over 99.9 filtration efficiency using True HEPA media filter
Eliminates odor
Cons
Relatively noisy
Parts are made of plastic and could be delicate
Click here to see its current price.
How humidifiers work
Did you know that a humidifier could easily eliminate snoring? Humidifiers though disregarded by many families are essential for our health and can help keep infections away especially during winter. This is how they work:
When you turn on the furnace to heat the house, the moisture in the air is dried out and the air becomes a haven for bacteria, viruses, and other allergens. A humidifier's work is to add moisture to the air thus minimizing bacteria multiplication.
The best 2 in 1 air purifier and humidifier eliminates the allergens in the air through filtration and at the same time, adds moisture to the air to maintain the desired level of humidity in the air.
A humidifier usually has a refillable water tank which allows it to consistently release water into the air. There are 2 classifications of humidifiers, console and whole-house units.
The whole house unit is usually joined to the current forced-air central heating system. This enables it to circulate moisture throughout the house via the furnace ductwork.
The console humidifier is a single room unit. Console humidifiers utilize a fan to spread water throughout the room. Most of the existing models can be moved from room to room or if possible, you can get one for each room.
Whole-house units require maintenance every 8-12 weeks depending on how hard the water is. On the other hand, console humidifiers need to be cleaned weekly and refilled daily.
How air purifiers work
An air purifier's operation is pretty simple. Its main function is to filter air contaminants and release fresh air back. It sucks in the contaminated air using internal fans and the air passes through several filters.
The filters capture all the harmful particles, dust, pollen, mold and mildew, pet dander, bacteria, and viruses. Some filters like True HEPA filter can capture particles down to 0.3 microns at over 99.9% efficiency.
Once the air is filtered, the purifier releases it back to the air. Similar to humidifiers, most modern air purifiers can sense the air quality and automatically adjust the fan speeds.
Why is it good to have a combination of both?
Current research states that airborne contaminants as small as 10 microns or less can enter your lungs and trigger respiratory problems. The air inside the house is estimated to be 2 to 5 times more contaminated than the outdoor air.
Additionally, due to the frequent use of heating systems, the air lacks sufficient humidity for safe living.
Contaminated dry air is a health hazard. It's a perfect breeding area for bacteria and viruses. There are uncountable benefits for investing in the best air purifier humidifier combo. Here are just a few.
Benefits of air purifier-humidifier combos
An air purifier humidifier combo keeps airborne bacteria and viruses away. Allergens that could otherwise penetrate your lungs are captured, filtered, and fresh air is released back. Sufficient moisture in the air keeps nasal passages moist. This allows cilia (the hair that expels foreign particles) such as dust to work effectively.
You no longer have to suffer unpleasant odors or smoke. Whether there's a smoker in your house or you love cooking but fumes spread all over the house, you will enjoy an odor-free and smoke-free environment.
An air purifier humidifier combo combats seasonal allergies. During extreme weather, we become susceptible to respiratory infections. Hay fever, asthma, cold, and flu become common. However, when the air within your house has enough moisture and is free of airborne allergens, your household remains safe.
You enjoy a comfortable sleep. Snoring tendencies, nose bleeding, dry throat and irritating bronchial discomforts resulting from lack of humidity become rare.
The best 2-in-1 air purifier and humidifier combo will get rid of mites and other insects that may harm your furniture and wooden floors. Low humidity can also increase cracks in hardwood. Moisturizing your home and purifying the air causes wooden floors and furniture to hydrate. As a result, house plants, musical instruments, and other sensitive house decor last longer.
You get healthier skin. Skin irritation as a result of dryness ceases. Your skin becomes supple and smooth.
Moisturizing the air also gets rid of static electricity. This reduces the effects on electronic equipment.
Minimized heating bills, humidified air feels much warmer than dry air. Once you maintain relative humidity, you can turn down the thermostat by several degrees. Besides, investing in a purifier and a humidifier separately and maintaining them is more expensive.
Conclusion
Keeping all these benefits in mind, investing in a worthwhile 2-in-1 air purifier and humidifier combo becomes less painful. In our research, we found that the best air purifier humidifier combo to be the SHARP KC850U PlasmaCluster.
It's a quiet appliance yet extremely effective. The device uses Plasma cluster ion technology which replicates natural cleaning processes. It employs a 3-level filtration system to capture over 99.9% of all airborne allergens.
Also, the device has a smart sensor that senses the air quality and adjusts the unit to match the air quality. We consider it a relatively affordable unit bearing in mind its unmatched benefits.
In summary, these are the best air purifier and humidifier combos in 2023:
SHARP KC850U PlasmaCluster Air Purifier Humidifier for Home or Office
Venta LW25 Airwasher 2-in-1 Humidifier and Air Purifier
BONECO 2-in-1 Air Washer W200 Humidifier & Purifier
Oreck WK15500B Air Refresh 2-in-1 HEPA Air Purifier & Ultrasonic Humidifier for Small Rooms
Envion by BONECO Four Seasons FS200 4-in-1 Air Purifier, Heater, Fan & Humidifier
See also: best air purifiers under $100